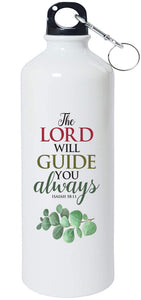 The blessed assurance that the creator of the entire universe is my Guide and he leads me in the ways which he knows is best for me. He guides me in the good times and when times are not good. He guides me in my family and career.
This artwork reminds us of the unfailing character of God.
An elegantly designed Aluminium Sipper Bottle. Ideal for taking to work or the gym. Reminding you of God's promises to you. Reminding you of your blessings from the Bible. Get one for you or for a loved one today.
Scripture taken from Isaiah 58:11 "The LORD will guide you always"
Material: Aluminium
Available Frame Colors: White
Capacity: 750 ml
Size: 9.5×3 (l*w)