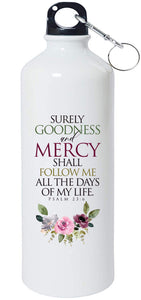 As believers in Jesus Christ, we trust that the goodness and mercy of God are following us in every step. We need to be similarly confident and comforted, believing that every day of our lives, these two friends of David are with us for every step of life's journey. They are constantly driving us closer to the Good Shepherd.
This artwork reminds us of God's promise will never leave us.
Ideal for taking to work or the gym. Reminding you of God's promises to you.
Scripture taken from Psalm 23:6 "Surely goodness and mercy shall follow me all the days of my life, and I shall dwell in the house of the LORD forever."
Material: Aluminium
Available Frame Colors: White
Capacity: 750 ml
Size: 9.5×3 (l*w)