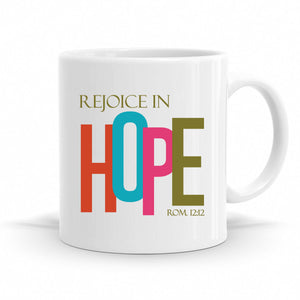 Rejoicing in the Hope that Christ is our Lord and Saviour and trusting Him in all situations is our top most priority.
This artwork shows that God is the source of hope.
An elegantly designed Coffee Mug perfect for your to start your day and continue through it. Reminding you of your blessings from the Bible. Get one for you or for a loved one today.
Scripture taken from Romans 12:12 "Be joyful in hope, patient in affliction, faithful in prayer."
Product Details:
Material: Ceramic Sublimation
Available Mug Color: White
Size: 4x3x2.5 inches (l*w*h)