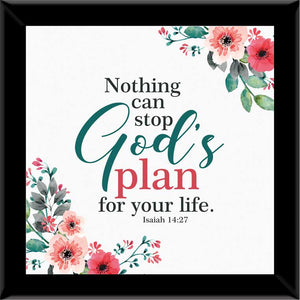 No one can stop God's plan for your life or mine, not even the enemy. God has had a plan for us since the foundations of the world, an eternal plan for mankind that was revealed in the person of Jesus Christ. Because we are united with Christ, we have hope and a future and hope do not put us to shame because God's love has been poured out into our hearts through the Holy Spirit, who has been given to us.
This artwork reminds us of God's unfailing character.
An elegantly designed table top décor perfect for the living room or any part of the house or work place. An ideal gift for any occasion.
Scripture taken from Isaiah 14:27 "Nothing can stop God's plan for your life."
Product Details:
Material: Plastic – Synthetic Wood Finish.
Frame Size: 0.5 inch
Packaging: Corrugated Box
Available Frame Colors: Black
Size: 14x14 inches