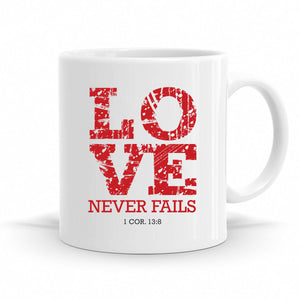 The Love of Jesus never fails, because his love is why we are cleansed from all of our sins and made holy. His love never lets us down. His love never changes.
This artwork reminds us of the unchanging nature of God's love.
An elegantly designed Coffee Mug perfect for your to start your day and continue through it. Reminding you of your blessings from the Bible. Get one for you or for a loved one today.
Scripture taken from 1 Cor. 13:8 "Love never fails."
Product Details:
Material: Ceramic Sublimation
Available Mug Color: White
Size: 4x3x2.5 (l*w*h)