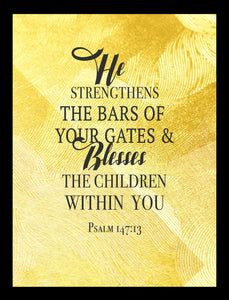 The verse speaks of God's unwavering commitment to safeguarding and prospering His beloved community. This frame stands as a powerful testament to His loving providence, encouraging all who see it to trust in His guidance and embrace His blessings.

This beautifully crafted frame captures the essence of divine protection and blessing, serving as a meaningful reminder of God's steadfast care.
Scripture taken from Psalm 147:13 - ""For he strengthens the bars of your gates and blesses your people within you."
Product Details:
Material: Plastic – Synthetic Matt Finish.
Frame Size: 1 inch
Frame Color: Black 
Size: 17x13 Inches