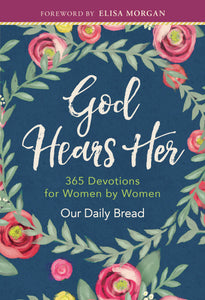 365 Devotions for Women by Women
God Hears Her: Devotions by Women for Women is a collection of Our Daily Bread devotionals specifically selected to bring comfort and encouragement to your everyday life. Each meditation was written by a woman to speak to another woman's heart. The personal stories, Scripture passages, and inspirational quotes lift you up and remind you that God is bigger than the trials you face. Over and over in the Bible, God heard and responded to the needs of women. Get this book for yourself or for the women in your life, to remind and encourage them that as God heard those women in the Bible, He will hear them too, and respond in the way they need most.
For bulk order and quantity based discount, please reach out to us.