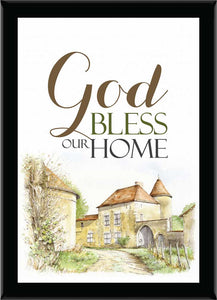 A proclamation of faith that God bless our house and all the members of the house. By doing this, we proclaim that the daily affairs of the house are blessed.
This artwork shows that God is the source of blessing for our house.
An elegantly designed wall décor perfect for the living room or any part of the house. An ideal housewarming gift.
A popular saying "God Bless Our Home"
Product Details
Material: Plastic – Synthetic Wood Finish
Frame Size: 1 inch
Available Frame Colors: Black
Size: 20x14 Inches