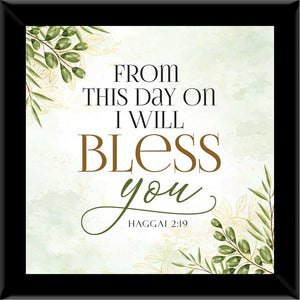 God is reminding you that from this day forth He will be your blessing when you trust in Him and walk in His directions.
This artwork is reminding us of just that.
An elegantly designed table top décor perfect for the living room or any part of the house or work place. An ideal gift for any occasion.
Scripture taken from Haggai 2:19 "From This Day On I Will Bless You"
Product Details:
Material: Plastic – Synthetic Wood Finish. Frame Size: 0.5 inch
Available Frame Colors: Black
Size: 14x14 inches