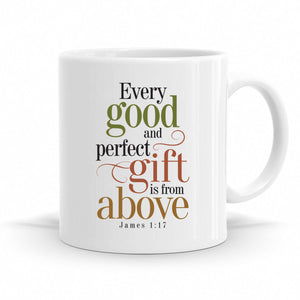 God is the giver of anything good. There is more good than most people realize. James has been discoursing on trials, and even these are good and perfect gifts. Everything that we have is a gift from God, undeserved. After salvation and adoption, every gift from God is a bonus.
Every situation, no matter how difficult, is a gift designed to bring us good in both this life and the next. Those who do not understand this will run the risk of seeing God as one who changes.
The Father of the heavenly lights does not change. He has been good and perfect from eternity past. He is good and perfect today. He will be good and perfect tomorrow, along with everything that he does, and everything that he gives.
This artwork reminds us of where our blessings come from.
An elegantly designed Coffee Mug perfect for your to start your day and continue through it. Reminding you of your blessings from the Bible. Get one for you or for a loved one today.
Scripture taken from James 1:17 "Every good and perfect gift is from above."
Material: Ceramic Sublimation
Packaging: Corrugated Box
Available Mug Color: White
Size: 4x3x2.5 (l*w*h)