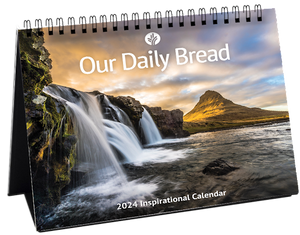 Filled with beautiful pictures from around the world, inspirational monthly Bible verses, a daily Bible in a year plan and Indian holiday markers, the Our Daily Bread inspirational calendar gives ample space to schedule your events for the month.
This desktop calendar is designed so you can view the schedule on your side while the other side displays an inspirational Bible verse which might help spark conversations about God's goodness and glory.
It's a beautiful addition to your homes and workspaces and a reminder that our times are in God's hands and with His help, we can manage our time wisely and for His glory!