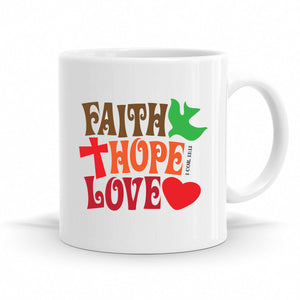 The Faith, Hope and Love Series which is meant to root us in Faith on God. Hope and Trust in His timings and Loving each other as we love ourself.
This series of artworks reminds us to have our foundations in the right place.
An elegantly designed Coffee Mug perfect for your to start your day and continue through it. Reminding you of your blessings from the Bible. Get one for you or for a loved one today.
Scripture taken from 1 Corinthians 13:13 "And now these three remain: faith, hope and love."
Product Details:
Material: Ceramic Sublimation
Available Mug Color: White
Size: 4x3x2.5 (l*w*h)