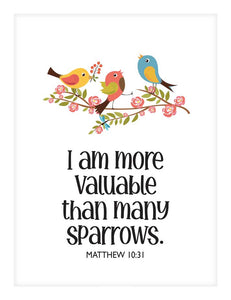 The Lord is the one who provides for all the sparrows and every living thing. He takes total care of them and they have nothing to worry about. The same is true for us when we depend on Him and his purposes.
This artwork reminds us of God's assurance for us.
An elegantly designed wall décor perfect for the living room or any part of the house or work place. An ideal gift for any occasion.
Scripture taken from Psalm 91:11 "For he will command his angels concerning you to guard you in all your ways"
Product Details:
Material: Printed Think Board
Available Frame Colors: White
Size: 17x13 inches