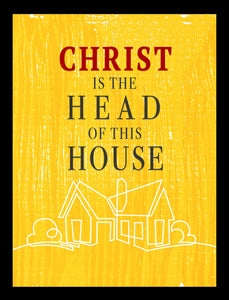 Knowing that our house is built on the foundation of Christ as the head of the house. He is always with us through all the good times and bad times. He shares place with us in every meal and also is the constant listener to every conversation which happens in our homes, in our thoughts and in our heart.
This artwork reminds us to be Christ conscious.
An elegantly designed wall décor perfect for the living room or any part of the house. An ideal housewarming gift.
A popular quote "Christ is the Head of this House, the Unseen guest at every meal, the Silent listener to every Conversation."
Product Details
Material: Plastic – Synthetic Matt Finish.
Frame Size: 1 inch
Available Frame Colors: Black
Size: 17*13 Inches