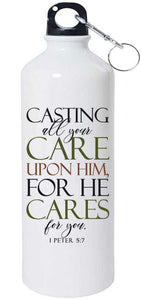 Peter's words are a command. It is not God's will for His children to continue to live under those burdens. Believing that God is mighty and cares for us should result in our regularly handing over our worries to Him.
This artwork shows that God is the source of comfort.
An elegantly designed Aluminium Sipper Bottle. Ideal for taking to work or the gym. Reminding you of God's promises to you.
Scripture taken from 1 Peter 5:7 "Cast all your anxiety on him because he cares for you."
Product Details:
Material: Aluminium
Available Frame Colors: White
Capacity: 750 ml
Size: 9.5×3 (l*w)