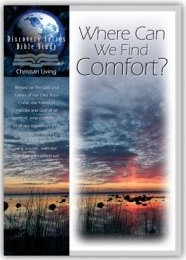 Where can Christians find comfort when circumstances rob them of hope? Where Can We Find Comfort? will take you through a Bible study of 2 Corinthians where the Apostle Paul explains how he emerged from some of his darkest hours with insights of God's grace that made life worth living. These 5 studies will remind you that the only One to turn to in times of trouble is the "Father of mercies and God of all comfort". This Bible study guide is perfect for individual or group study. It also includes leader notes and reflections from Our Daily Bread.
For bulk order and quantity based discount, please reach out to us. 
You can also avail free shipping on all orders more than Rs. 1499!