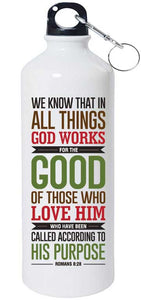 Trusting the Lord with all things makes us less worried and more dependant on Him. He has his finger on everything in the universe and everything works for the good when we can trust him even when it is impossible to see the light at the end of the tunnel.
This artwork reminds us of God's unfailing character.
An elegantly designed Aluminium Sipper Bottle. Ideal for taking to work or the gym. Reminding you of God's promises to you.
Scripture taken from Romans 8:28 "We know that in all things God works for the good of those who love him, who have been called according to his purpose."
Material: Aluminium
Available Frame Colors: White
Capacity: 750 ml
Size: 9.5×3 (l*w)