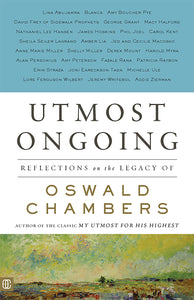 Reflections on the Legacy of Oswald Chambers
The beloved devotional My Utmost for His Highest has challenged, encouraged, and moved people to think more deeply about their relationship with the Lord. Utmost Ongoing is filled with contributions from an eclectic group of people who share exactly what that devotional has meant to them. From Christianity Today International's Harold Myra to contemporary Christian music artist Phil Joel, contributors select a My Utmost for His Highest quote and then expound on what it means in their lives with personal insights and stories. Stretch your understanding of God and how He works as you ponder the timeless wisdom of Chambers paired with modern-day stories of inspiration.
E-books are easy to read on both mobile devices and computers. They can be read directly or through e-book reader apps. We recommend the following free apps if you do not have e-book readers already installed. 
Google Play Books - available on Google PlayStore and Apple App Store
Read Era for Android phones available on Google PlayStore
ePub reader for iPhones and iPads available on Apple App Store
When you order these e-books, you will receive an email within 2 working days with the e-book and relevant details.