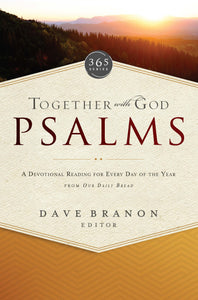 A Devotional Reading for Every Day of the Year from Our Daily Bread
We relate to the Psalms because we can find our own life story in these words written so many years ago. Whether we're calling out in desperation or lifting hands in praise, we can turn to God in all of life's circumstances. This collection of Psalm-based devotionals was written by trusted Our Daily Bread authors. You'll find voice for your cares and concerns and the reassurance that God has everything under control.
E-books are easy to read on both mobile devices and computers. They can be read directly or through e-book reader apps. We recommend the following free apps if you do not have e-book readers already installed. 
Google Play Books - available on Google PlayStore and Apple App Store
Read Era for Android phones available on Google PlayStore
ePub reader for iPhones and iPads available on Apple App Store
When you order these e-books, you will receive an email within 2 working days with the e-book and relevant details.