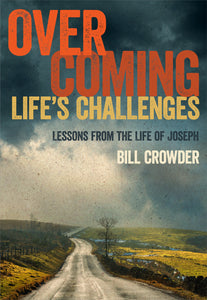 Lessons from the Life of Joseph
Standing firm in your faith can be a struggle, especially when life hits you with one painful circumstance right after another. Overcoming Life's Challenges: Lessons from the Life of Joseph, by Bill Crowder, helps you gain a deeper understanding of God's eternal purpose for allowing suffering. Discover through the experiences of Joseph how you can strengthen your faith and draw closer to God even in the midst of difficult times.
E-books are easy to read on both mobile devices and computers. They can be read directly or through e-book reader apps. We recommend the following free apps if you do not have e-book readers already installed. 
Google Play Books - available on Google PlayStore and Apple App Store
Read Era for Android phones available on Google PlayStore
ePub reader for iPhones and iPads available on Apple App Store
When you order these e-books, you will receive an email within 2 working days with the e-book and relevant details.