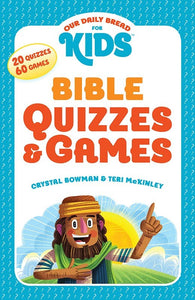 Looking for a way to keep your children busy for hours? Want to engage their brains and keep them away from video screens? We have just the thing—and it includes solid biblical content! Our Daily Bread for Kids: Bible Quizzes and Games is packed full of crosswords, word searches, picture puzzles, and quizzes designed to entertain and enlighten kids ages 6 to 10 years old. 

Your kids will enjoy hours of interactive fun featuring:
> 20 eight-question quizzes covering key Bible topics
> 60 games related to the quizzes
> an answer key for all quizzes and games
> bold, fresh artwork from Our Daily Bread for Kids

This fun activity book connects kids to Scripture with the basics from Genesis to Revelation. They'll think they're playing, but you'll know they're learning!

Kids can use the book on their own, or you can make it a family activity. It also makes a great addition to any Sunday school class.
For bulk order and quantity based discount, please reach out to us.