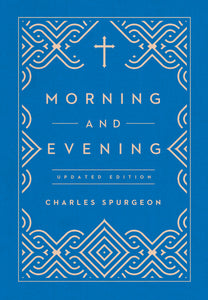 Countless Christians have been inspired by Spurgeon's straightforward and insightful writings. And these classic meditations continue to be just as relevant today as they were more than one hundred years ago. This modern-language edition of Morning and Evening offers practical insights into everyday Christian living. You'll be challenged to reflect on the redemptive work of Christ and the power you have in Him to live for God's glory. If you want to grow in grace and in the knowledge of the Lord, make your first and last encounter of each day time well spent with God. Get ready to experience the joy of knowing who you are in Christ, growing stronger in your faith, and loving God more.
E-books are easy to read on both mobile devices and computers. They can be read directly or through e-book reader apps. We recommend the following free apps if you do not have e-book readers already installed. 
Google Play Books - available on Google PlayStore and Apple App Store
Read Era for Android phones available on Google PlayStore
ePub reader for iPhones and iPads available on Apple App Store
When you order these e-books, you will receive an email within 2 working days with the e-book and relevant details.