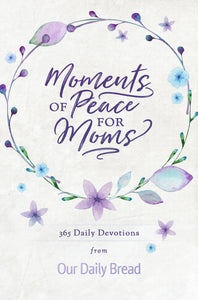 365 Daily Devotions from Our Daily Bread
Moms need the support only God can give. These meditations on God's love and peace provide respite for mom's soul in 365 five-minute breaks. The devotions cover topics such as stress, worry, and busyness as well as pay tribute to moms and the joys of motherhood. The book's handy size allows moms to carry it with them, and the attractive cover is fit for display on a nightstand.
E-books are easy to read on both mobile devices and computers. They can be read directly or through e-book reader apps. We recommend the following free apps if you do not have e-book readers already installed. 
Google Play Books - available on Google PlayStore and Apple App Store
Read Era for Android phones available on Google PlayStore
ePub reader for iPhones and iPads available on Apple App Store
When you order these e-books, you will receive an email within 2 working days with the e-book and relevant details.