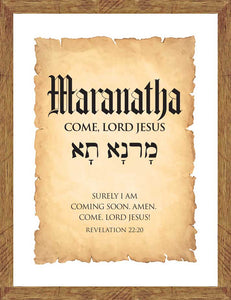 The word Maranatha means "Come, Lord Jesus". 
Scripture is taken from Revelation 22:20 "He who is the faithful witness to all these things says, "Yes, I am coming soon!" Amen! Come, Lord Jesus!"
An elegantly designed wall décor perfect for the living room or any part of the house or work place. An ideal gift for any occasion.
Product Details:
Material: Plastic – Wood Finish.
Frame Size: 1 inch
Frame Color: Wood 
Size: 17x13 Inches