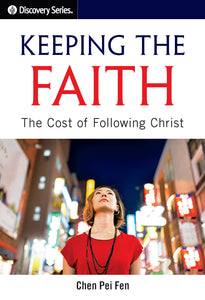 The Cost of Following Christ
Following Jesus isn't easy. Jesus Himself said it would be hard. Christians don't expect nonbelievers to understand our faith. But what happens when it gets really personal—our own family? Chen Pei Fen understands this intense dilemma as she became a Christian against her parents' wishes and the cultural expectations in which she lives. In Keeping the Faith, she shares her own experience and offers scriptural encouragement for those times when you face struggles because of your faith.
E-books are easy to read on both mobile devices and computers. They can be read directly or through e-book reader apps. We recommend the following free apps if you do not have e-book readers already installed. 
Google Play Books - available on Google PlayStore and Apple App Store
Read Era for Android phones available on Google PlayStore
ePub reader for iPhones and iPads available on Apple App Store
When you order these e-books, you will receive an email within 2 working days with the e-book and relevant details.