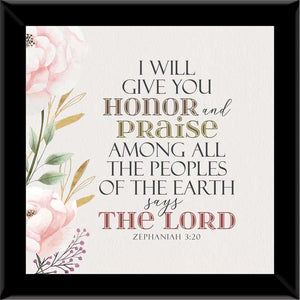 A word of Faith, that the Lord as per his word will lift your heads higher and keep you in a place where you will be honored and praised by others because of Christ in you.
This artwork reminds us of the promise God has given to us.
An elegantly designed wall décor perfect for the living room or any part of the house or work place. An ideal gift for any occasion.
Scripture taken from Zephaniah 3:20 "I will give you honor and praise among all the peoples of the earth".
Product Details:
Material: Plastic – Synthetic Wood Finish.
Frame Size: 1 inch
Available Frame Colors: Black, White
Size: 14 x 14 x 0.5 (l*w*h) in inches