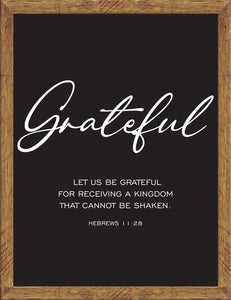 We do not receive all the promises of God in this life. Although we are given eternal life, we still die. But the gift is real, and the promise will be kept. We have to trust God on it.
Being grateful for everything in life and going ahead in faith and assurance that Christ is with us through all things.
An elegantly designed wall décor perfect for the living room or any part of the house or work place. An ideal gift for any occasion.
Scripture is taken from Hebrews 12:28 "Therefore, since we are receiving a kingdom that cannot be shaken, let us be thankful, and so worship God acceptably with reverence and awe,"
Product Details
Material: Plastic – Synthetic Wood Finish.
Frame Size: 1 inch
Available Frame Colors: Brown
Size: 17x13 Inches