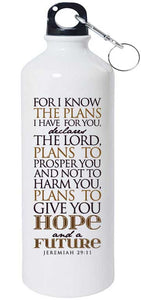 If we seek His guidance in all our ways and repent with all our hearts, we will indefinitely emerge as refined, disciplined, and undefeated winners with a hopeful and prosperous future.
This artwork reminds us that God has a plan for us.
An elegantly designed Aluminium Sipper Bottle. Ideal for taking to work or the gym. Reminding you of God's promises to you.
Scripture taken from Jeremiah 29:11 "For I know the plans I have for you," declares the LORD, "plans to prosper you and not to harm you, plans to give you hope and a future."
Material: Aluminium
Available Frame Colors: White
Capacity: 750 ml
Size: 9.5×3 (l*w)