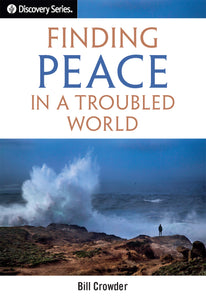 Nothing could have been more disturbing to the disciples than to know that Jesus would soon be gone. As their hearts shuddered with fear of the unknown, Jesus comforted them with His promise of peace. In this examination of John 14:1-6, we are reminded of God's Spirit of peace that is available to us because of the death and resurrection of Jesus. As we put our trust in Jesus, we can find peace to calm our hearts, nurture our souls, and strengthen our relationships.
E-books are easy to read on both mobile devices and computers. They can be read directly or through e-book reader apps. We recommend the following free apps if you do not have e-book readers already installed. 
Google Play Books - available on Google PlayStore and Apple App Store
Read Era for Android phones available on Google PlayStore
ePub reader for iPhones and iPads available on Apple App Store
When you order these e-books, you will receive an email within 2 working days with the e-book and relevant details.