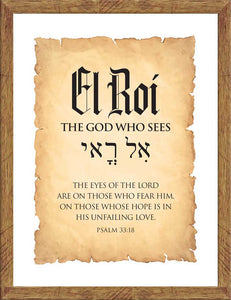 We may have noticed that many names for God include "El." El typically refers to God.
El Roi means "The God who sees me." In other words, when we feel most invisible and forgotten by everyone else, we can remember that God does see us. He witnesses our struggles and comes alongside us.
An elegantly designed wall décor perfect for the living room or any part of the house or work place. An ideal gift for any occasion.
Product Details:
Material: Plastic – Wood Finish.
Frame Size: 1 inch
Frame Color: Wood 
Size: 17x13 Inches