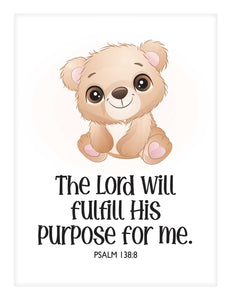 The blessed assurance that the creator of the entire universe is my Guide and he leads me in the ways which he knows is best for me. He guides me in the good times and when times are not good. He guides me in my family and career.
This artwork reminds us of the unfailing character of God.
An elegantly designed wall décor perfect for the living room or any part of the house or work place. An ideal gift for any occasion.
Scripture taken from Psalm 138:8 "The LORD will fulfill his purpose for me; your steadfast love, O LORD, endures forever. Do not forsake the work of your hands."
Product Details:
Material: Printed Think Board
Available Frame
Colors: White
Size: 17x13 inches