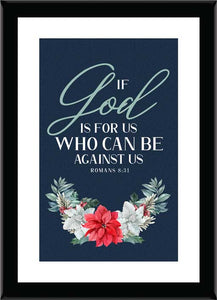 A promise of God is given to us when we walk in His ways and keep His commandments in our life. We are promised to be blessed and be fruitful.
This artwork shows us God's faithfulness when we trust him.
An elegantly designed wall décor perfect for the living room or any part of the house. An ideal housewarming gift.
Scripture taken from Romans 8:31 "If God Is For Us Who Can Be Against Us"
Product Details:
Material: Plastic – Synthetic Finish.
Frame Size: 1 inch
Frame Color: Black 
Size: 20x14 Inches