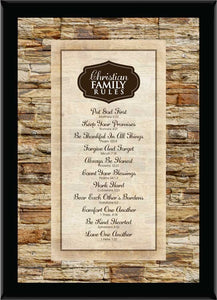 A set of Christian family rules which define our foundation as a family. The ways we acknowledge God and grow in our life. The way we set ourselves apart from others. The way we encourage others and grow with each other.
This artwork reminds us of Christian rules for our family.
An elegantly designed wall décor perfect for the living room or any part of the house. An ideal housewarming gift.
Scripture taken from various portions of the Bible.
Material: Plastic – Synthetic Finish
Frame Size: 1 inch
Packaging: Corrugated Box
Available Frame Colors: Black
Size: 20x14x0.5 (l*w*h)