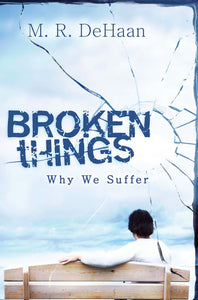 Why We Suffer
Before M. R. DeHaan was teaching on Radio Bible Class, he was a physician and well acquainted with pain and suffering. Dr. DeHaan, in his book Broken Things—Why We Suffer, takes a biblical and practical look at suffering and helps you to discover that often it is through seasons of trial that God seeks to mold and shape you into His image. Applying the healing principles of God's Word, Dr. DeHaan encourages those who have been scarred by loss of employment, health, or by the death of a loved one, to find both hope and peace.
E-books are easy to read on both mobile devices and computers. They can be read directly or through e-book reader apps. We recommend the following free apps if you do not have e-book readers already installed. 
Google Play Books - available on Google PlayStore and Apple App Store
Read Era for Android phones available on Google PlayStore
ePub reader for iPhones and iPads available on Apple App Store
When you order these e-books, you will receive an email within 2 working days with the e-book and relevant details.