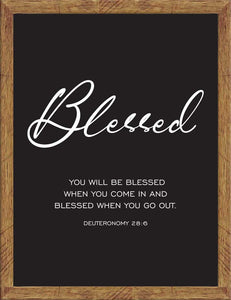 If you fully obey the LORD your God and carefully follow all his commands I give you today, the LORD your God will set you high above all the nations on earth. You will be blessed in the city and blessed in the country. 
This artwork shows that God is constant at all times.
An elegantly designed wall décor perfect for the living room or any part of the house or work place. An ideal gift for any occasion.
Scripture taken from Deuteronomy 28:6 "Blessed shall you be when you come in, and blessed shall you be when you go out." 
Product Details:
Material: Plastic – Synthetic Wood Finish.
Frame Size: 1 inch
Available Frame Colors: Brown
Size: 17x13 inches