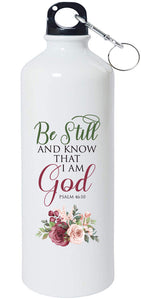 It's easy to be fearful when things aren't going well or when we are faced with challenges and conflict in our life. In the midst of their struggle, however, God tells His people to wake up and recognize who's on their side.
God is telling you to stop striving, stop fighting, and stop trying to do things on your own. Stop stressing about the battle ahead and trust me. Wake up! I am the Lord. I am your refuge and your strength. You have nothing to fear or worry about when I am with you. I will fight your battles and deal with your enemies. So get out of my way. Step back, open your eyes, and acknowledge who I am and what I can do. Let me be God. Don't try and do my job for me. Be patient, be still, and let me go to work.
This artwork is reminding you to just be still and trust God.
An elegantly designed Aluminium Sipper Bottle. Ideal for taking to work or the gym. Reminding you of God's promises to you.
Scripture taken from Psalm 46:10 "Be Still And Know That I Am God"