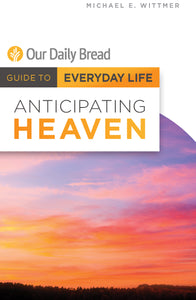 Our Daily Bread Guides to Everyday Life 
Have you ever wished you could have a greater understanding of what life will be like after death? Anticipating Heaven is meant to build your confidence in the secure future we are promised as followers of Christ. Wittmer is a trusted expert in biblical studies with a warm and conversational style. He provides practical, comforting answers to your common questions and concerns regarding heaven and eternity.
E-books are easy to read on both mobile devices and computers. They can be read directly or through e-book reader apps. We recommend the following free apps if you do not have e-book readers already installed. 
Google Play Books - available on Google PlayStore and Apple App Store
Read Era for Android phones available on Google PlayStore
ePub reader for iPhones and iPads available on Apple App Store
When you order these e-books, you will receive an email within 2 working days with the e-book and relevant details.