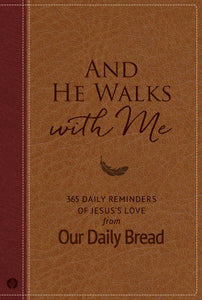 365 Daily Reminders of Jesus's Love from Our Daily Bread
 And He Walks with Me is a beautiful collection of Our Daily Bread meditations that draw you into a closer walk with Christ. You'll find joy in the God who walks and talks with you, just as the lyrics from the hymn "In the Garden" portray. Each reading reminds you that God is personally interested in every aspect of your life and that He delights in having a relationship with you. It's an ideal gift for anyone who desires daily biblical inspiration, connection, and companionship.
E-books are easy to read on both mobile devices and computers. They can be read directly or through e-book reader apps. We recommend the following free apps if you do not have e-book readers already installed. 
Google Play Books - available on Google PlayStore and Apple App Store
Read Era for Android phones available on Google PlayStore
ePub reader for iPhones and iPads available on Apple App Store
When you order these e-books, you will receive an email within 2 working days with the e-book and relevant details.