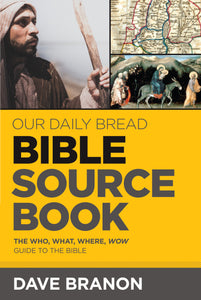 The Who, What, Where, Wow Guide to the Bible
The Bible can be intimidating because of its length and its complexities. In an entertaining and insightful way, the Our Daily Bread Bible Sourcebook provides an easy guide to better understand Scripture. This unique format explores the who, what, when, where, why, and wows of each book of the Bible. It can be used as both a great introduction and a handy companion to the Bible. You'll learn interesting facts, read narratives about the authors, discover archaeological and geographical information, and so much more!
E-books are easy to read on both mobile devices and computers. They can be read directly or through e-book reader apps. We recommend the following free apps if you do not have e-book readers already installed. 
Google Play Books - available on Google PlayStore and Apple App Store
Read Era for Android phones available on Google PlayStore
ePub reader for iPhones and iPads available on Apple App Store
When you order these e-books, you will receive an email within 2 working days with the e-book and relevant details.