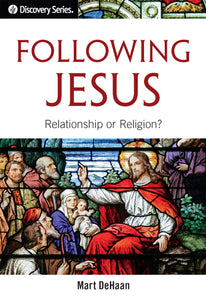 Relationship or Religion?
Is there a difference between "doing for Jesus" and "following Jesus"? While religious activities like attending church, giving money, and praying are all worthwhile, they should be done from a heart of thankfulness for what Christ did for you. He loves a broken heart who wants to serve Him rather than someone who is busy doing the "right things." Without Jesus at the center, it's all superficial. Understand the difference between religion and relationship so you can please God and find joy in your life.
E-books are easy to read on both mobile devices and computers. They can be read directly or through e-book reader apps. We recommend the following free apps if you do not have e-book readers already installed. 
Google Play Books - available on Google PlayStore and Apple App Store
Read Era for Android phones available on Google PlayStore
ePub reader for iPhones and iPads available on Apple App Store
When you order these e-books, you will receive an email within 2 working days with the e-book and relevant details.