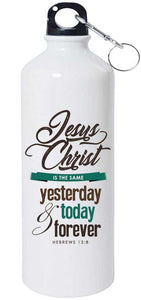 Knowing the Character of Christ and His blessed names reminds us of who we serve and who is in control of our life and every step.
This artwork reminds us of who God is.
An elegantly designed Aluminium Sipper Bottle. Ideal for taking to work or the gym. Reminding you of God's promises to you.
Scripture taken from Hebrews 13:8 "Jesus Christ is the same yesterday, today, and forever."
Material: Aluminium
Packaging: Carton Box
Available Frame Colors: White
Capacity: 750 ml
Size: 9.5×3 (l*w)