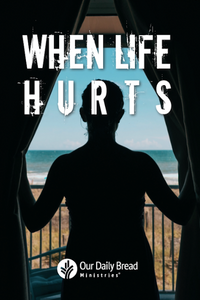 Life can be full of surprises, and sometimes those surprises can be joyous, even fun-filled. But, there are other times when the surprises of life bring fear and concern because the surprise impacts us or someone we love in the most personal way—our health. Doctor visits, surgery, medications, and therapy are all events in life that usher us into a strange and often frightening world that can be overwhelming. These are the surprises that turn our lives upside down. These are the times when life hurts.
This booklets helps you remember that though in these times of distress and fear, it is easy to want to give up and quit, and to feel as if we have been forgotten in our struggle, in both cases, we would be wise to take heart. We have not been forgotten, even when we feel very much alone. 
This booklet is available at no charge due to the donations made by readers of Our Daily Bread Ministries India. We are sustained by donations received from Indian readers like you and do not receive international funding.