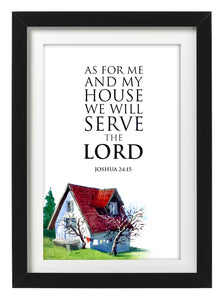 It is an affirmation of the family's commitment to serving the Lord. "As for me and my house, we will serve the Lord" is a promise to do the best we can to make sure that everything that takes place inside the home honors God. It is also a prayer that the children raised there will follow in the faith of their parents.
This prayer is being conveyed by this artwork and is meant to encourage others to follow the same for their family.
An elegantly designed table top décor perfect for the living room or any part of the house. An ideal housewarming gift.
Scripture taken from Joshua 24:15 ""As for me and my house, we will serve the Lord."
Product Details:
Material: Break Resistant Acrylic Glass
Available Frame Colors: Black & White
Size: 20x14 inches