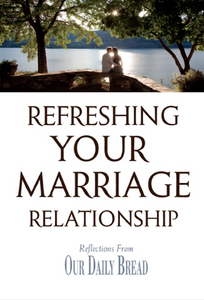 Marriage begins with promises. Promises that couples make to each other and to God. Promises that are sweeping in scope and difficult to maintain for a lifetime. Yet, although we seem to intuitively understand how enormous those promises are, we
find ourselves surprised when we (or our spouses) fail to perfectly live up to them. The fact is that these promises outreach our abilities. If we are ever to live up to the promises contained in our marriage vows, we must have help. Divine help. This booklet with reflections from Our Daily Bread helps provide Biblical wisdom that can help create marriage relationships full of joy and fulfillment. 


This booklet is available at no charge due to the donations made by readers of Our Daily Bread Ministries India. We are sustained by donations received from Indian readers like you and do not receive international funding.