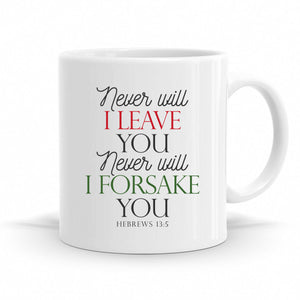 This is a beautiful prophecy of hope and promise for God's children. It is one of the most tender looks at the heart of God for his people.
The compassion of our Father in heaven is beyond what the sinful heart can comprehend, but God will never leave us or forsake us, even if for a time he has had to discipline us for our good.
This artwork reminds us that God has never forgotten us.
An elegantly designed Coffee Mug perfect for your to start your day and continue through it. Reminding you of your blessings from the Bible. Get one for you or for a loved one today.
Scripture taken from Hebrews 13:5 "Never will I leave you; never will I forsake you."
Material: Ceramic Sublimation
Packaging: Corrugated Box
Available Mug Color: White
Size: 4x3x2.5 (l*w*h)