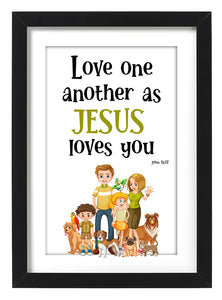 A command to love one another just as Christ has loved as. Treating everyone with the same measure and forgiving one another. 
This artwork shows that God is the source of love.
An elegantly designed wall décor perfect for the living room or any part of the house or work place. An ideal gift for any occasion.

Scripture taken from John 15:12 "Love each other as I have loved you."

Product Details:
Material: Break Resistant Acrylic Glass
Available Frame Colors: Black & White
Size: 20x14 inches