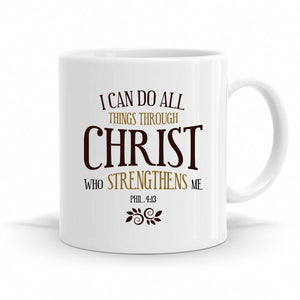 Through Christ, we have the grace to do what is good, and through Him, we must expect the reward; and as we have all things by Him, let us do all things for Him, and to His glory!
This artwork reminds us of that strength in us which Christ has given.
An elegantly designed Coffee Mug perfect for your to start your day and continue through it. Reminding you of your blessings from the Bible. Get one for you or for a loved one today.
Scripture taken from Phil. 4:13 "I can do all things through him who strengthens me."
Product Details:
Material: Ceramic Sublimation
Available Mug Color: White
Size: 4x3x2.5 (l*w*h)