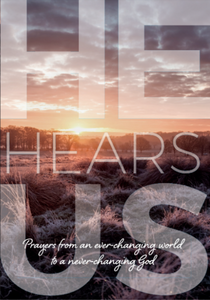 Prayers from an ever-changing world to a never-changing God
For the last two years, we have been navigating an uncertain and constantly shifting new normal; one that apart from the constant and sometimes overwhelming fear of death and grief, also includes recession, unemployment, fragile mental health, isolated ways of working, stressful and restricted schooling for our children, new approaches to church fellowship and a long long road to recovery.
So what do we do? How do we handle something like this?
The Bible's instruction is wonderfully straightforward and refreshing for wearied souls: "in every situation . . . present your requests to God." Even in this chaotic, stressful and long season, we can experience God's peace as we trust every situation, every question, every trial, every loved one and every day into His loving, powerful hands.
That is what this collection of prayers is for; to help you prayerfully approach the challenges you face. We trust these prayers and reflections will give you confidence to enter God's presence and the words with which to pour out your heart to Him so that He may fill you with His transformational peace.
This booklet is available at no charge due to the donations made by readers of Our Daily Bread Ministries India. We are sustained by donations received from Indian readers like you and do not receive international funding.