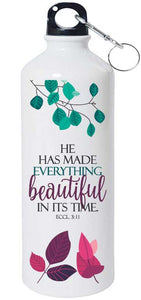 "God's perfect timing" is an aspect of divine sovereignty. In God's perfect timing, He only acts when it is optimal for what He wants to accomplish in His kingdom. In His omniscience, the Lord sees everything that is going on in the world in any given moment—which involves trillions of details that only the Spirit of God can fully grasp.
This artwork reminds us to trust in God and His work every time.
An elegantly designed Aluminium Sipper Bottle. Ideal for taking to work or the gym. Reminding you of God's promises to you.
Scripture taken from Eccl. 3:11 "He Has Made Everything Beautiful In His Time"
Material: Aluminium
Available Frame Colors: White
Capacity: 750 ml
Size: 9.5×3 (l*w)