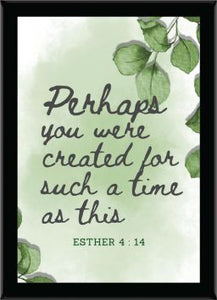 This verse implies that her position and influence have led her to this critical moment, where she can make a significant impact in saving her people. This verse has become a powerful reminder that individuals may find themselves in specific circumstances due to a higher plan, and they have the opportunity to make a difference by embracing their unique roles and responsibilities.
An elegantly designed wall décor perfect for the living room or any part of the house. An ideal gift for your loved ones.

Scripture is taken from Esther 4:14 "Perhaps you were created for such a time as this."
Product Details
Material: Plastic – Matt Finish.
Frame Size: 1 inch
Available Frame Colors: Black
Size: 11*8 Inches